Saxophone Family Gallery
and Sound Clips
"This is the most beautiful sound I have ever heard!"
-composer Gioacchino Rossini, upon first hearing the saxophone in 1848
This gallery of photos and sounds is dedicated to the saxophone, but to the saxophones as family of instruments.
"The family of the saxophone does not consist only of the four types known and popularized by military music. It consists of up to sixteen members and the professor should accustom his students to play if not on all of them at least on several types." - Saxophone Inventor Adolphe Sax, 1883
Mr. Sax always intended the instrument to be a family as well as a supremely flexible solo voice, a matched consort of instruments with the collective power and range of a pipe organ, the warmth of a string orchestra, and the expressiveness of a human voice.

The saxophone is usually associated with jazz and pop music, but it was invented over 80 years before it's adoption into jazz. This supremely versatile family of instruments is not only a mainstay of the jazz world, but has been used in bands (and often orchestras) since it was created in the 1840's. Wonderful solo, quartet, and large ensemble pieces have been written thanks largely to the efforts of pioneers Sigurd Rascher and Marcel Mule, Their students (and their student's students) are continuing and expanding on their work.
"To my ears the saxophone is the most expressive of all wind instruments Ė the one closest to the human voice. And surely all musical instruments should be rated according to their tonal closeness to manís own voice!"
-composer Percy Grainger, from his program notes to "Linconshire Posy"
Many people have been unaware of the thriving classical saxophone tradition, but more people are discovering it all the time!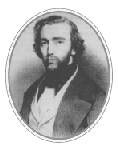 Contrabass sax? Baritone Horn? Bass clarinet? Sopranino sax? Steam Calliope? Aromatherapy boxes? Portable timpani?
One brilliant man invented all of these crazy things...
Click here to read about Adolphe Sax and his creations!
(with sound clip)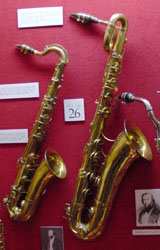 Adolphe Sax Instruments at the Shrine To Music
(with sound clips)




Ten members of the saxophone family
(with sound clip)


Jay, a big saxophone, and a waterfall. Happiness...
CLICK TO ENTER
Jay's
Bass Saxophone Page
(with sound clips)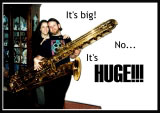 Jay, an even BIGGER saxophone, and his
unspeakably wonderful wife, Adrienne.
Now that's true happiness.
CLICK TO ENTER
Jay's
Contrabass Saxophone Page
(with sound clips)

Just when you thought he couldn't sink any lower...

The Amazing Subcontrabass Saxophone!
(with sound clips)
The long and short of it...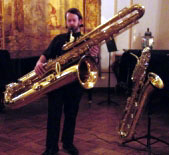 The Eb contrabass and Bb bass saxophones.


The Eb baritone and Bb bass saxophones.
(with sound clips)


Tenor saxophones in C and in Bb.
(with sound clips)


The alto saxophones: one in F, and one in Eb.
The F alto was made by Conn, and was called a mezzo-soprano saxophone.
You can see their original press release by clicking on the photo above.
(with sound clips)


Two modern Bb soprano saxes; one curved, one not...
(with sound clips)


The high note department:
Bb soprano, C soprano, and Eb sopranino saxes.
(with sound clips)


A comparison of the Bb clarinet,
Bb tárogató, and Bb soprano saxophone.
(with sound clips)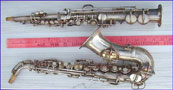 Size comparisons of sopranino and straight and curved C sopranos.


The wonderful world of mouthpieces.
(with sound clip)


Even tikis like saxophones!
The C tenor and the F alto go luau...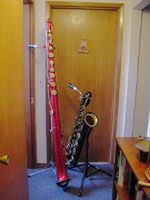 A straight soprano, sure, but a straight baritone?
A piccolo sax? A plastic sax?
A 36-foot tall, 600 lb. saxophone!?!?!
They're all for real...
Click and see!
(with sound clips)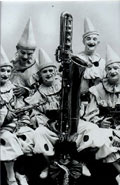 The Six Brown Brothers, the vaudeville era's greatest saxophone ensemble.
For more historical photos, click the picture...
(with sound clip)


All material © Jay Easton unless otherwise noted