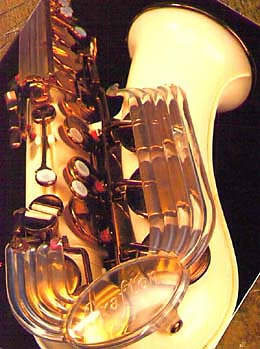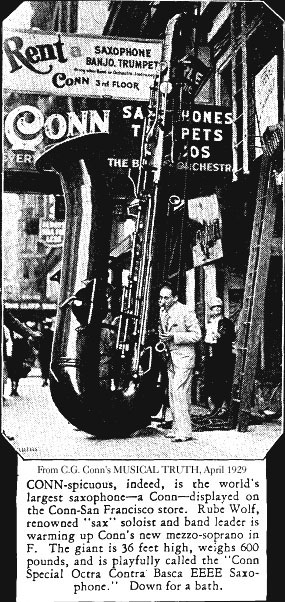 Above: On left, the Grafton plastic alto

On right, The largest saxophone ever made.
Sadly, it seems to have been used for scrap during the Great Depression.
Saxophones go Straight: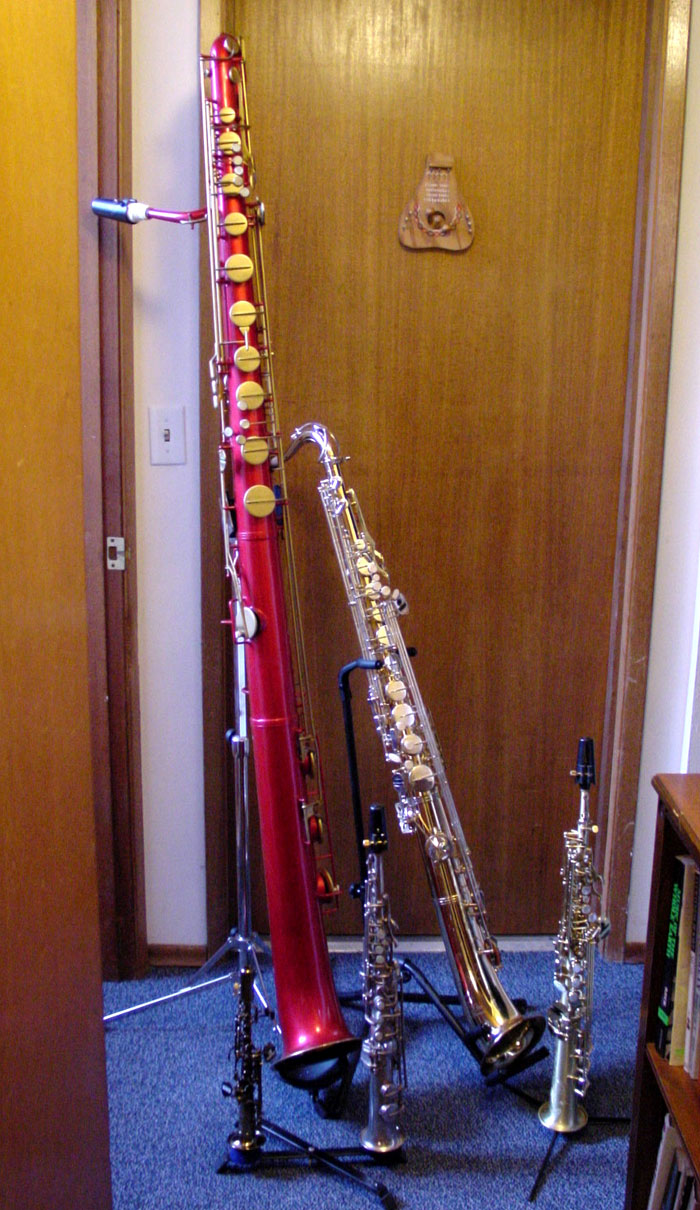 Bb piccolo sax (Soprillo by Benedikt Eppelsheim), C soprano (by Holton), Bb soprano (by Selmer, Bb tenor (by LA Sax), and Eb baritone (custom made by Peter Nixon.)
mp3 ofJay playing Straight Tenor 1.3MB
(Granados Playera, arr. Larry Teal)
Mp3 of Jay playing Straight Baritone 1.0MB
(Wirth- Dark Flows the River)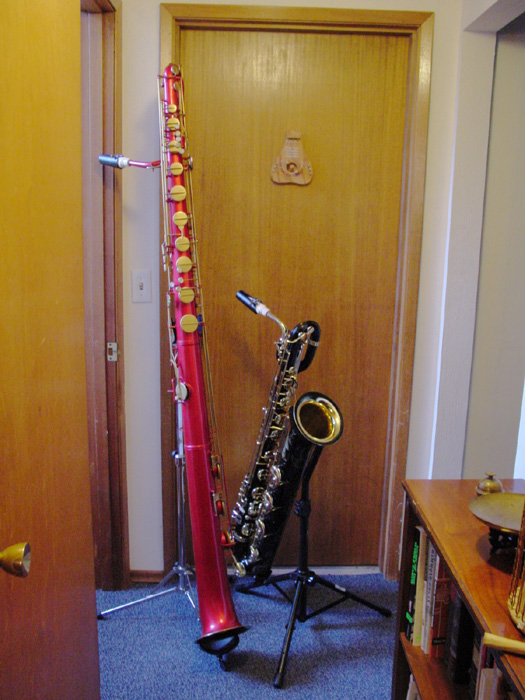 Above: The straight baritone saxophone (one of only two in the world) next to a standard baritone saxophone, both to low A.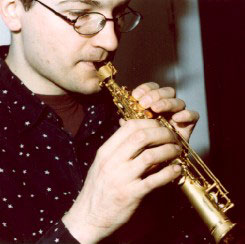 Benedikt Eppelsheim with his 11-inch Bb Soprillo sax, an octave above the soprano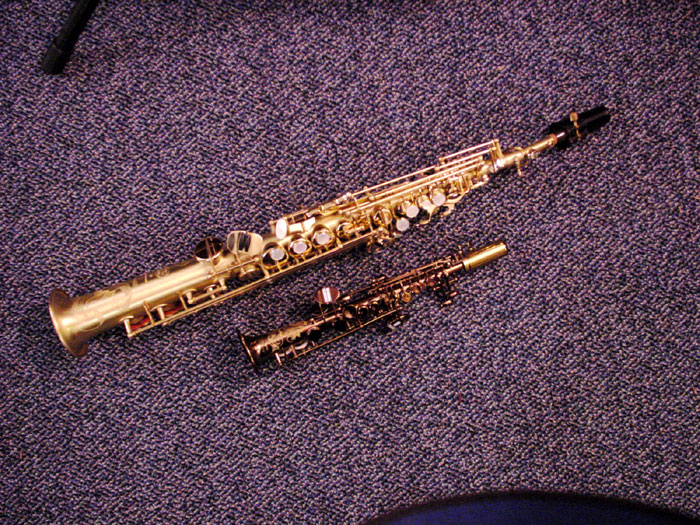 Jay's Bb soprano and Bb Soprillo (piccolo) saxophones.
mp3 of Jay playing Soprillo solo 0.8MB
(Telemann flute Fantasia no. 11)

mp3 of Jay playing Bb Soprillo with Sax Orchestra 1.0MB
(Grainger Annunciation Carol With U. of Washington Saxophone Orchestra)

A rare Reiffel and Husted soprano slide saxophone from the 1920s.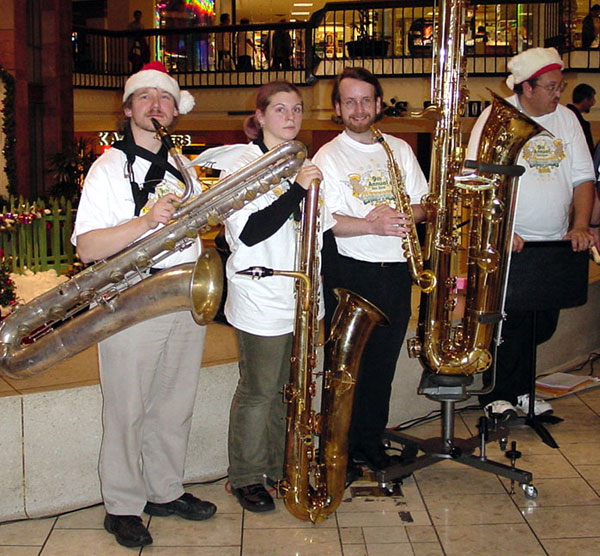 Jay at Ray Bernd's Saxophone Christmas in San Jose-
over 200 saxophones, including the basses, contrabass, and Saxello shown here!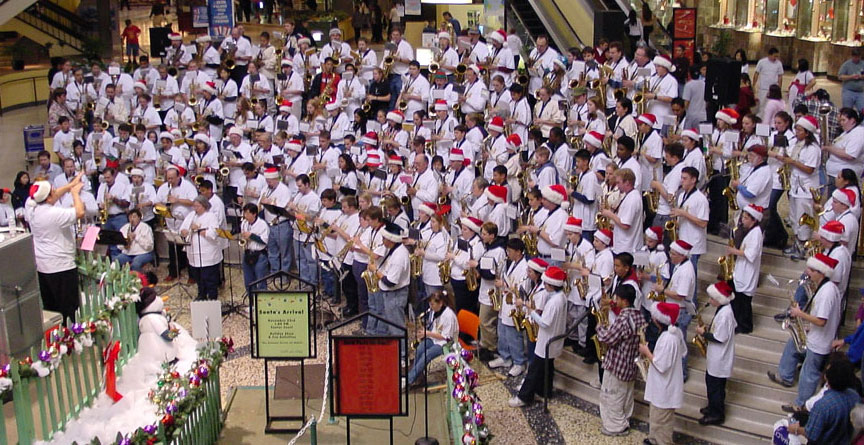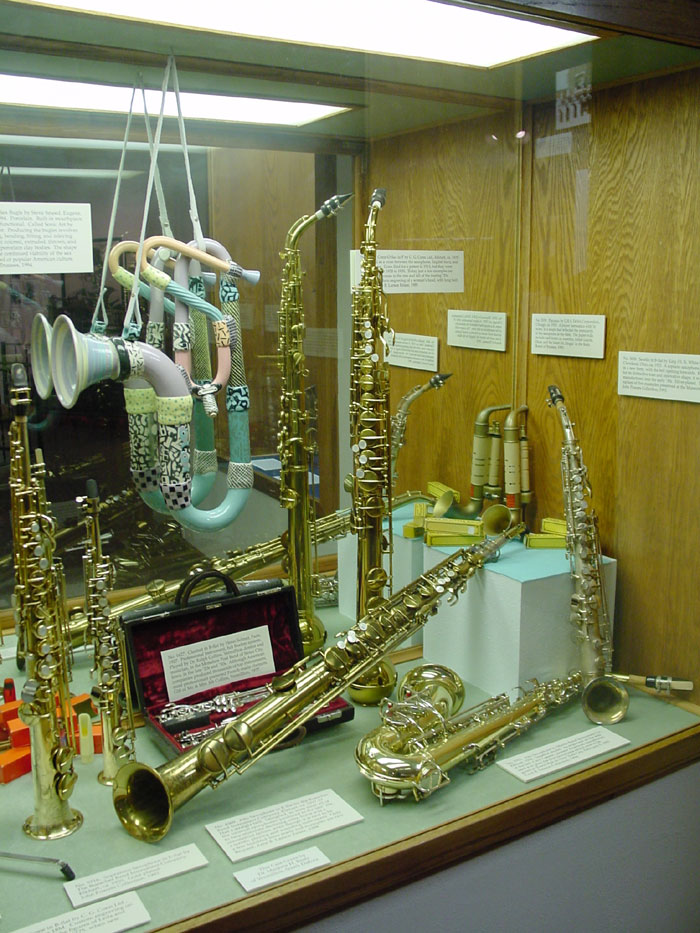 Unusual saxes at the National Music Museum in Vermillion, SD.
From L to R: Bb soprano, Eb sopranino, Eb Buescher straight alto,
F Conn-O-Sax, Eb alto, "Play-a-Sax", and Bb Saxello (semi-curved soprano)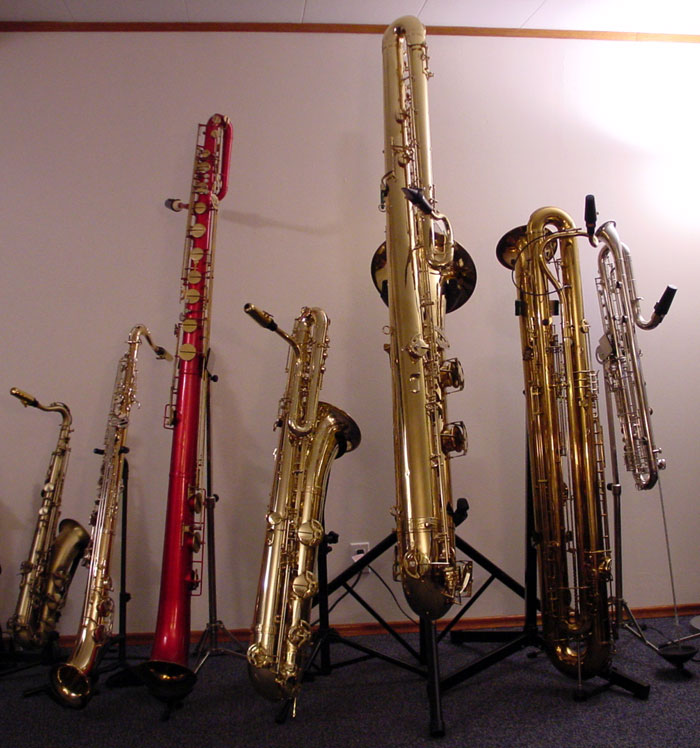 The gallery of titans. From L-R: Bb tenor sax, Bb straight tenor sax, Eb straight baritone sax,
Bb bass sax, Eb contrabass sax, Bb subcontrabass sax (Bb Tubax), and metal Eb contralto clarinet
All material © Jay Easton 2001-2006 unless otherwise noted