| | |
| --- | --- |
| | Recordings and Publications |

Now Available - Jay's new book-with-CD!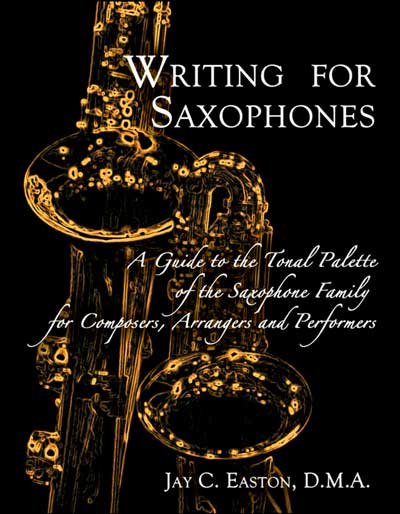 Purchase Writing for Saxophones and enjoy sample content pages and CD tracks at Baxter Music Publishing
www.baxtermusicpublishing.com

Writing for Saxophones is a practical guide to understanding and effectively utilizing the sounds of this thriving instrumental group as it advances into the twenty-first century. Over ninety printed solo and ensemble examples in the book have been recorded on the included audio CD. In this book, Dr. Easton provides composers, arrangers, and performers with an unprecedented variety of detailed printed and recorded examples of the sounds available to the saxophone, fulfilling the need for a comprehensive guide to the tonal palette of the entire saxophone family.

Contents include:
* An overview of the history of the saxophone, including the current
resurgence of interest in the full range of the saxophone family from
B-flat piccolo through B-flat subcontrabass.
* Detailed information on writing for all twelve sizes of saxophone in use today, both common and rare, including multiple printed musical examples and audio recordings of each size.
* Recordings of small and large saxophone ensembles demonstrating a wide variety of combinations of both common and specialty saxophones. Each example has a corresponding printed score.
* An extensive introduction to extended techniques for saxophone, including notation and performance information about the altissimo register, microtones, multiphonics, reed-pizzicato, portamento and more.


Praise for Writing for Saxophones:

"What a marvelous compendium of saxophone knowledge!"
-Dr. Walter S. Hartley, composer and Professor Emeritus of Music, SUNY Fredonia

"This is truly a comprehensive book on the saxophone that is informative yet fun to read. I feel very fortunate and honored to have this terrific information... I am currently involved in commissioning a couple of composers to write for me. This will no doubt be a handy book to pass along."
-Chien-Kwan Lin, Assistant Professor of Saxophone, Eastman School of Music

"I was delighted to read such a useful and comprehensive history of the saxophone. It will be required reading for my students. Of equal importance is your intelligent, objective analysis of saxophone equipment, style, tone, and more that answers so much of the mythology that pervades our field."
- Dr. Paul Cohen, saxophone faculty at Manhattan School of Music, Oberlin Conservatory, New York University and William Paterson University; arranger, musicologist, historian and author
Purchase Writing for Saxophones
and preview sample content here:
www.baxtermusicpublishing.com
Also Available: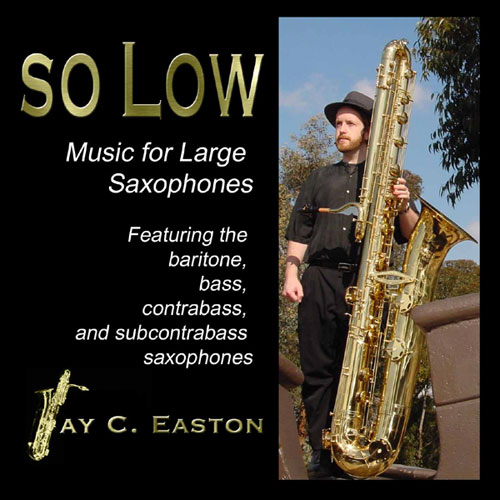 Jay C. Easton- Eb baritone, Bb bass, Eb contrabass, and Bb subcontrabass saxophones
Loie Flood- piano
Purchase So Low
and hear sound samples here:
www.baxtermusicpublishing.com
So Low is the first album ever exclusively dedicated to the lowest members of the saxophone family. Baritone and occasionally bass saxophones are heard in symphonic bands and jazz ensembles, and they are indispensable for use in saxophone quartets and saxophone orchestras. But surprisingly, it is still very rare to hear these wonderfully flexible, expressive, and sonorous instruments played in a solo setting.
Even more rarely heard is the giant contrabass saxophone; there are only about 20 known to exist. And this recording is one of the first times the Subcontrabass saxophone has ever been used- so far there are only four subcontras in the world. My hope is that releasing this album will be a step towards changing all this- these instruments deserve to be heard!
Praise for So Low
"This is not only a great demonstration of the low end of the sax family but is also great music. Highly recommended!"
-Grant Green, founder of www.contrabass.com

"Without a doubt, this disc is completely fascinating."
-R.M. Campbell, Seattle Post-Intelligencer music critic

"Jay C. Easton has done a great service to the saxophone world by breathing life into these wonderful big saxophones. This CD belongs in everyone's collection." -Paul Wagner, Saxophone Journal Magazine
"Your So Low CD is quite remarkable -- unique in fact.
The low saxophones are simply astonishing, and beyond that, I am impressed by the overall sensitive playing."
-John David Lamb, composer


Purchase So Low
and hear sound samples here:
www.baxtermusicpublishing.com

Track listing:

WALTER S. HARTLEY Duet for Basses (2002)
1. Allegro moderato - 1:08
2. Adagio - 2:11
3. Vivace - 1:05
two subcontrabass saxophones

ADOLF G. HOFFMAN
4. Serenade Basque (1940) - 6:05
baritone saxophone and piano

CARSON P. COOMAN
5. Polpis Dreaming, op. 410 (2002) - 5:55
contrabass saxophone and piano

CARL ANTON WIRTH
6. Dark Flows the River (1970) - 2:06
baritone saxophone and piano

WALTER S. HARTLEY
Sonatina Giacosa (1987)
7. Allegro molto - 2:16
8. Allegretto grazioso- 2:09
9. Quodlibet: Poco vivace, scherzando - 1:20
bass saxophone and piano

RALPH VAUGHAN WILLIAMS
Six Studies in English Folksong (1926)
Arranged for saxophone by Jay C. Easton
10. I - Adagio… "Lovely on the Water" -1:24
11. II - Andante sostenuto… "Spurn Point" -1:18
12. III - Larghetto… "Van Dieman's Land" -1:53
13. IV - Lento ... "She Borrowed Some of Her Mother's Gold" -1:40
14. V - Andante tranquillo... "The Lady and the Dragoon" -1:34
15. VI - Allegro vivace ... "As I Walked Over London Bridge" -0:51
baritone saxophone and piano


IVAN SHEKOV
16. Nocturne (1996) - 6:03
bass saxophone and piano

JEAN-BAPTISTE SINGELÉE (1812-1875)
17. Septième solo de concert, op. 93 - 4:46
baritone saxophone and piano

WALTER S. HARTLEY
Romance and Sonorities VIII (1996)
18. Romance: Adagio- 1:55
19. Sonorities VIII: Allegro molto - 0:53
bass saxophone and piano

WERNER SCHULZE
20. Austro Polka, op. 5/6 (1984) - 4:11
contrabass saxophone and piano


Total playing time: 50:51
All material © Jay Easton unless otherwise noted